Mark Dreyfus criticises Turnbull for letting Justin Gleeson step down and says Coalition 'cannot bear criticism' and attacks anyone who 'dares to speak the truth'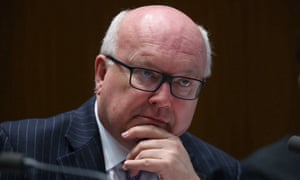 Mark Dreyfus says George Brandis has behaved dishonourably and disgracefully and should be sacked for his treatment of the solicitor general, Justin Gleeson.
He has also criticised the Turnbull government for its treatment of Australia's top public servants, saying it cannot bear criticism and attacks anyone who tries to speak truth to it.
Speaking to ABC radio on Tuesday, the shadow attorney general said Brandis had misled parliament "several times" about the circumstances leading to Gleeson's resignation on Monday.
In a letter to Brandis, Gleeson explained his reasons for stepping down.
"My decision does not amount to a withdrawal of any position I have taken in relation to matters of controversy between us, including before the Senate legal and constitutional affairs committee," he wrote on Monday.
"For the avoidance of any doubt, I also make plain that I reject absolutely each and every attack and insinuation that has been made in recent times upon me personally or upon my office by government members of parliament, including you in Senate committee processes."
The dispute revolves around whether Brandis consulted Gleeson on his directive that any requests to the solicitor general's office for legal advice from other areas of government should be approved by the attorney general. Brandis told the Senate he did consult. Gleeson has maintained Brandis did not.
Gleeson was also unhappy that he was not properly consulted on a controversial citizenship bill that split the Abbott cabinet, even though Brandis subsequently claimed that Gleeson had advised it could withstand challenge in the high court.
The dispute culminated in an extraordinary showdown in front of a Senate committee.
On Tuesday, Dreyfus criticised Malcolm Turnbull for allowing Gleeson to step down while refusing to sack Brandis over the affair. "If Malcolm Turnbull had any strength, if was able to lead at all instead of just floundering around, George Brandis would already have gone," Dreyfus said.
He said the government's sustained attack on Gleeson showed a pattern of disturbing behaviour. "[Brandis] doesn't have the slightest idea what an independent legal opinion looks like," Dreyfus said.
"And we see the same thing in the attack on Paul Grimes by the deputy prime minister, forcing him out of his office as secretary of the Department of Agriculture.
"We see the same thing in the attack that George Brandis has repeatedly made on the president of the Human Rights Commission [Gillian Triggs].
"This is a government that can't bear criticism, that attacks everybody who dares to speak the truth to it, and then turns around and says to anyone who raises this, like me, you're politicising this matter."
Last week Triggs was forced to retract a claim she made in a Senate committee hearing that she had been misquoted in an interview with the Saturday Paper in which she described politicians as "usually seriously ill-informed".
The Saturday Paper accepted Triggs's retraction in an editorial stating she had made a "significant error".
It noted her independence had been undermined by "two years of abuse" including government members haranguing her in Senate committees and boasting they hadn't even read her Forgotten Children report, which was highly critical of the treatment of children in detention.
Dreyfus wrote to Turnbull on Tuesday saying Brandis should not be involved in the selection of a new solicitor general to replace Gleeson.
"Through his treatment of Mr Gleeson, [Brandis] has demonstrated a view of the role of Solicitor-General completely at odds with the way in which this office has operated for a century," the letter said.
"Moreover, it has been confirmed recently that Senator Brandis appointed 37 people to the Administrative Appeals Tribunal in May this year without advertisement or a selection panel.
"This is a precedent which does not indicate he will approach the appointment of a new Solicitor-General in the proper manner.
"Therefore I ask for a guarantee that the new Solicitor-General's selection process is not compromised by Senator Brandis's personal direction.
"I ask that the position be advertised, and a selection panel overseen by the Secretary of the Department of the Prime Minister and Cabinet be used to determine the shortlist which is put to Cabinet," he wrote.
The Coalition senator Ian Macdonald, who led the attack on Gleeson in parliamentary hearings, said on Tuesday he admired Gleeson for stepping aside because it was the right thing to do.
"I warned the references committee [which has carriage of this matter and on which there is a Labor/Greens majority] that having a public hearing into this matter would end in disaster – as it has.
"I also tried to have the evidence of the solicitor general and attorney general taken in camera to protect the offices both men hold under the constitution, but was outvoted.
"I thought the solicitor general erred in allowing himself to be embroiled, wittingly or unwittingly, in what was clearly a political attack by the Labor party on the attorney general," he said.