Simon Birmingham says private trainers costing students and taxpayers three times as much as public educators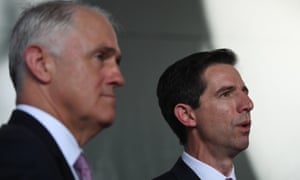 Private vocational trainers are charging students – and the taxpayers who give them loans – almost three times as much as Tafes and other public educators.
In Tasmania they are charging 10 times as much, with the average student borrowing $32,981, compared with Tafe fees of just $3470.
The education minister, Simon Birmingham, says the new figures his department released on Monday highlight the "staggering" gap between what providers have been charging for courses and what a Tafe would charge.
"The 2015 data is littered with even more examples of rorting and shonky behaviour from some providers who continue to take advantage of students and taxpayers and tarnish the reputation of the vocational education and training sector," he says.
Federal government loans to vocational students have blown out from $325m in 2012 to $2.9bn in 2015. The new figures show that, at the same time, enrolments grew from 57,400 in 2012 to 320,400 in 2015.
More than half of vocational students reported they were unemployed or not seeking a job when they signed up for their course. And nearly four in five said they were studying either to get a job or for job-related reasons such as improving their skills.
However, about 13% of students – almost one in seven – said they were studying for personal interest or self development.
The federal government plans to overhaul the system to restrict loans to courses that meet skills shortages and are most likely to end up with students getting a job.
Birmingham said the old system meant too many students were being signed up for courses simply to boost enrolment numbers or to provide "lifestyle choices" that didn't lead to work.
"While I understand some people may want to broaden their experiences, ultimately we need to ensure precious taxpayer money is used to support students doing courses with strong employment outcomes, which also increases the prospects of people being able to pay back their government loan," he said.
Clinton team warns on complacency as Trump camp admits 'we're behind'

Coalition says cost gap between private vocational trainers and Tafes 'staggering'

José Mourinho accuses Antonio Conte of humiliating him after Chelsea defeat

Christopher Marlowe credited as one of Shakespeare's co-writers

SNL: Hanks makes American dads great again as Baldwin's Trump tics on