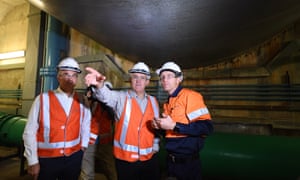 The expansion of the Snowy Hydro Scheme, touted by the prime minister as costing $2bn, will likely blow out to more than $3bn, Senate estimates was told on Tuesday.
The idea of expanding the Snowy Hydro Scheme, adding 2,000MW of capacity and storage, was announced by Malcolm Turnbull in March.
Under questioning from Greens senator Larissa Waters, the chief operating officer of Snowy Hydro, Roger Whitby, said the $2bn estimate did not include the cost of expanding transmission lines.
"For this to be feasible more broadly, and providing benefits to consumers, it will have to have deeper transmission augmentation – both into New South Wales and Victoria," Whitby said, noting those connections were not included in the original estimate of $2bn.
Asked by Waters whether it would cost more than $2bn to build those connections, Whitby responded: "I would imagine it's less than $2bn." But he said it was "potentially more than $1bn".
 Under further question from Labor senator Kim Carr, the Snowy Hydro executives revealed a $29m feasibility study funded by the Australian Renewable
Energy
Agency (Arena), expected to be completed this year, would not examine the cost of those transmission lines.
"It won't be part of our feasibility [study]," said the chief executive of Snowy Hydro, Paul Broad.
The executives said they were in discussion with TransGrid, which operates the lines about their cost and feasibility.
The hearing also revealed that Turnbull had announced the project less than two weeks after the idea was raised with his office by Snowy Hydro.
Under questioning from Waters, Broad said they had first had discussions with the prime minister's office on 3 March, just 13 days before he announced the project publicly.