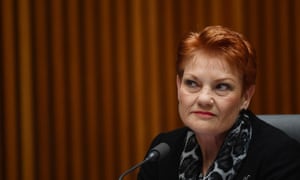 The provenance and use of a plane by Pauline Hanson to campaign for One Nation is under investigation by the electoral commission, officials have said.
The Australian electoral commission commissioner, Tom Rogers, told Senate estimates on Thursday it had issued a number of compulsory notices to produce documents, converting its inquiry into a formal investigation.
Rogers also said a recording of Hanson's chief of staff, James Ashby, discussing "making some money" from electoral reimbursements did not disclose any breaches of commonwealth electoral law, but might breach other laws.
The AEC is investigating whether the plane – which Hanson has used in campaigning and described as her own but is reportedly registered and insured in Ashby's name – was a gift from One Nation's biggest recent donor, the Victorian developer Bill McNee, and should have been declared as such.
On ABC's Four Corners program McNee denied funding the purchase of the plane, saying he had not funded the party beyond what was publicly disclosed. Ashby has told Guardian Australia the hours flown for party business on his aircraft had been declared in accordance with the AEC rules.
 On Thursday Rogers said the AEC had asked for information about the plane to be volunteered but in early May a delegate used coercive powers by issuing "a number" of notices under
section 316(3) of the Electoral Act
.
The AEC's chief legal officer, Paul Pirani, said the section provided a broad power to compel witnesses to appear or produce documents where the AEC had reasonable grounds to believe a person had information relating to a possible contravention of electoral law.
Rogers said the power was rarely used because information provided to the AEC was generally acceptable or parties opted to amend their disclosures, but he would not say if One Nation had sought to do so.
Refusing to comply with a notice is an offence punishable by a $1,800 fine. Providing false or misleading information could result in a prison sentence of up to six months.
Rogers said that because the notices to produce have been issued, the matter "ceased to be an inquiry and is now a formal investigation". The investigation "now has to play out" and after that the delegate would decide whether to refer the matter to another agency for possible "further action".
In her questioning of officials, Hanson suggested One Nation had written to the AEC on 12 January seeking advice about how to disclose use of the plane and had submitted log books "because it is so unusual for a plane to be used for electoral campaigning".
Rogers told the Senate committee the AEC "looked at the facts that were publicly available" and concluded it was "fairly clear cut" there was no breach of commonwealth electoral law, although there could be breaches of other laws disclosed.
The Labor senator Murray Watt has referred the matter to the Australian federal police, Queensland police and the Queensland electoral commission.
Hanson raised several points of order objecting to Watt's line of questioning, noting the AFP had said it had received a complaint not that it was under investigation.
Rogers also confirmed the AEC was undertaking a regular compliance review of One Nation.