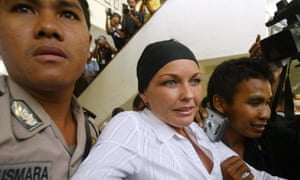 In the dozen years since Schapelle Corby arrived in Indonesia with just over 4kg of cannabis in a boogie board bag, neither the intrigue nor public enthralment with her case has waned.
Corby, arguably the most famous Australian prisoner of her generation during her nine years inside Bali's Kerobokan jail, is due to return home this weekend in a blaze of publicity.
The 39-year-old will arrive in Brisbane – en route to her presumed return to living with family on the Gold Coast – with her sister, Mercedes, and a hired bodyguard who has shepherded the likes of Roger Federer and Lady Gaga.
Corby's mother, Rosleigh Rose, told reporters on Thursday that "Schapelle should have been coming home 12-and-a-half years ago, not now".
 Rose reeled off names of past Australian officials who she thought journalists should be questioning about "why they kept vital information about the boogie board bag and the airport".
The persistence of the conspiracy claims of her supporters, which raised plausible suspicions of insider corruption at Australian airports but never produced smoking gun evidence before Balinese judges, is partly what sets Corby's story apart from those of untold other Australian drug prisoners abroad.
This was one undercurrent to the very public drama of an outwardly ordinary young woman dealt a crushing punishment to the despair of a family given to showing raw emotion.
TV audiences in Australia and New Zealand watched live in May 2005 as Corby, a picture of despair, slapped her own forehead as if to wake up from the nightmare of a 20-year sentence for importing narcotics, while Mercedes and Rosleigh cried out at the court in rage.
The backdrop, Bali, has been a tourist magnet for ordinary Australians for generations: familiar yet exotic, permissive yet draconian for anyone in the crosshairs of its harsh drug laws.
The unanswered question of the prior source and ultimate destination of the cannabis led to media focus on the wider Corby family, in particular her late father, Michael, and associates, in search of drug links. The Corby family received large defamation payouts over two such examples, by tabloid TV show Today Tonight and a book by a Fairfax Media journalist, and an apology from the ABC over another.
Mercedes, a successful litigant in both cases, gained celebrity in her own right, posing in a bikini for a men's magazine.
Culture shocks
Her former husband, from a small surfing town in Japan called Omaezaki, was stunned to learn of her plight, just weeks before her conviction, via a reporter for a woman's magazine who had tracked him down.
Acquaintances in Omaezaki recalled an earnest, kind and gentle but emotional young woman who struggled with loneliness and limited Japanese in the two years she lived there before her marriage broke up in 2000, when she was around 23.
The second was likely that fateful 2004 trip to Bali, ostensibly a brief holiday to celebrate Mercedes' 30th birthday, but which proved to be her last, given her pending deportation and permanent ban from Indonesia.
A third major bout of culture shock looms for Corby with her return to Australia, where she has become a household name in her absence. Corby has reportedly told Balinese parole authorities she is looking forward to returning to Queensland. Whether she stayed with siblings on the Gold Coast or with her mother in the working-class Logan city suburb of Loganlea was undecided, Rose told media this week.
For the past fortnight, Australian media crews have been waiting outside the small villa in Bali where Corby is serving out parole. Mercedes left a note on the gate demanding they "stop invading our privacy – Immigration have been notified with footage of you putting the go-pro over our fence and cameras over the fence. SO RUDE!!"
Speculation continues about media gaining a paid exclusive interview with Corby but this has been fraught territory in the past. Proceeds-of-crime laws in Australia, at both the federal level and in Queensland, apply to serious overseas convictions such as Corby's, preventing her from benefiting from any deal.
Commonwealth prosecutors succeeded in 2007 in stopping payments from Corby's co-authored book, My Story, and a related magazine interview from going to Mercedes and her Indonesian husband, Wayan Widyartha. A $267,000 advance from publisher Pan Macmillan had been sent to Widyartha's account in Bali. The Queensland supreme court made a confiscation order for $128,000 in 2009.
The last attempt to sew up an exclusive interview with Corby proved ill-fated for Channel Seven's Sunday Night when Corby was released on parole in February 2014. A slated interview for a rumoured multimillion-dollar sum was canned after Corby was warned by Indonesian authorities about violating the terms of her parole. Seven was raided by the Australian federal police, in what the network described as "overkill", denying any money was paid to the convicted smuggler.
On Wednesday, Rose denied any media deal had been done. A Sydney publicist, Steve Moriarty, who had been rumoured to be representing the Corby family in prospective deals, declined to comment.
Leaving prison
In the end, Corby served less than half of her original 20-year sentence. The former Indonesian president Susilo Bambang Yudhoyono cut five years from her term in 2012, two years after Corby appealed for clemency, citing in part her downward spiral into depression.
A similar cannabis importing conviction in Australia would fetch a maximum of 10 years in jail. According to statistics published by one law firm, less than 10% of smugglers in similarly "marketable" quantities of heroin in Australia are sentenced to more than nine years.
Six months after Corby's arrest, nine other young Australians were arrested for attempting to smuggle heroin out of Bali.
More than a year after Corby's release on parole, two of them, Andrew Chan and Myuran Sukumaran, were shot dead by firing squad. The other seven remain in Indonesian jails, four in Kerobokan, the relative obscurity of their fates a marked contrast.